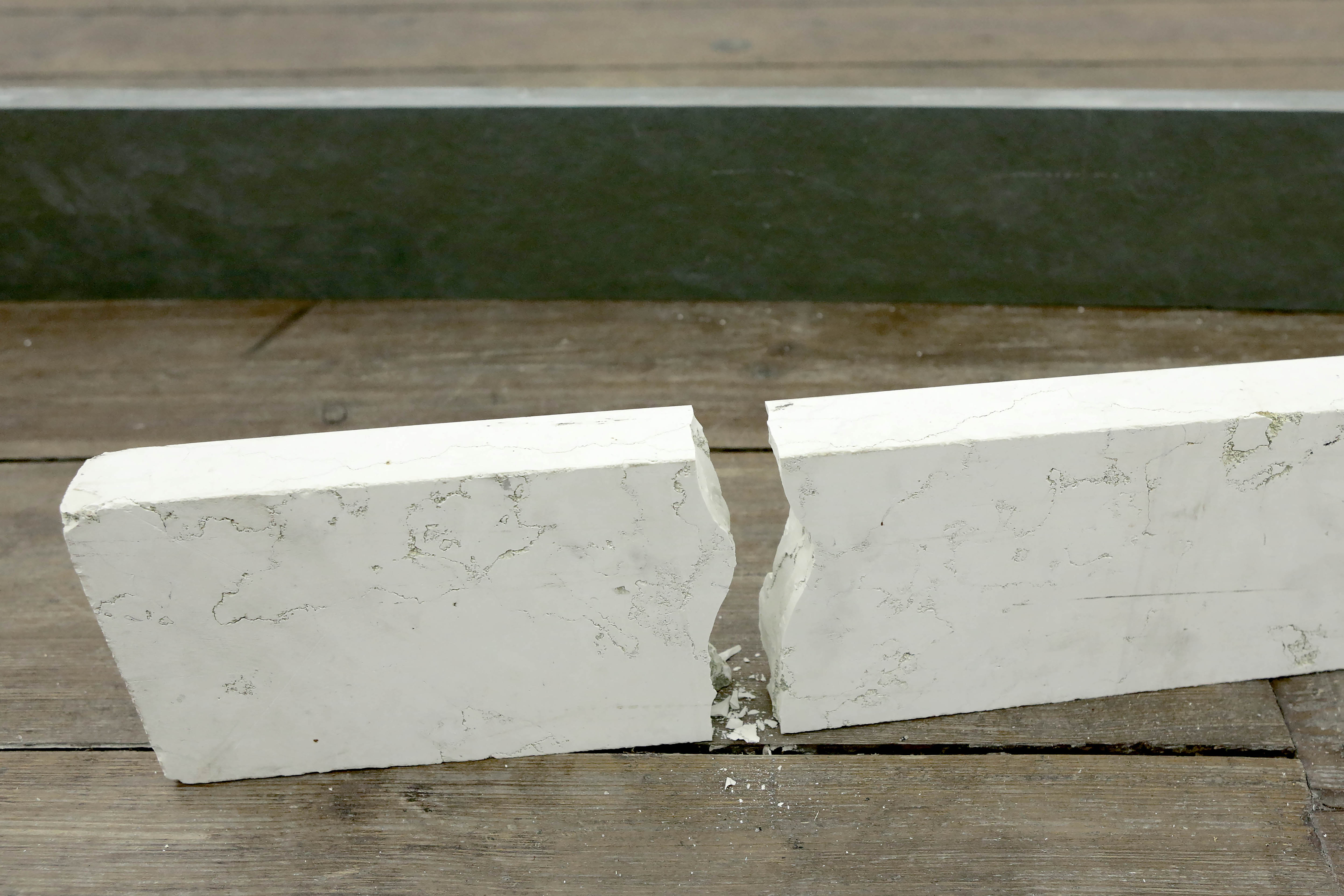 ALPHA BETA GAMMA DELTA

Year: 2015
Apparatus: object
past, present, future - not necessarily in this order
Dimension: variable
Materials: stones, 3D printer, binder


Set-up:

A series of industrially-cut stones construct the material of Alpha, Beta, Gamma, Delta. The cut stones have been shipped from their origin source to the studio.
The original measurements of the stones relate to western architecture: each stone caters to specific functional or aesthetic requirements, which in turn relate to modern standard housing measurements.
The largest stone measures 200cm x 19cm x 6cm.
The smallest stone cannot yet be determined, given the fragility of all stones - which will unavoidably be broken during handling in the studio. Therefore, the dimensions of the smallest stone will have to be specified on site.
All stones displayed are listed below, indicating a singular selected property.

Multicolour redOther names: India Red, Indian Multicolour Red, Indian Red, Multi Colour Red, Multicolour Indiano Rosso, Multicolour Rosso, Multicolour Red, Red Multi, Red Multicolour, Red Multicolour, Rojo Multicolour, Rosso India, Rosso Multicolour.Silver-grey Qualities: impermeable, resistant to: atmospheric pollution, frost, normal heat and rapid temperature changesPerlino
Weight - 2.670 kg/m3
Wear Resistance - 22.70 mm Tensile Strength - 155 kg/cm2 Nero ImpalaMining method: involving application of diamond wire technology specifically applied to the extraction process.


Test:

At a later point in time the damaged and fragmented stones are ground down in order to analyse their different mineral properties on a micro-scale. These ground-up fragments are mixed with binder to develop a new variation of molecular binding, using a computer-driven 3D-printer. The new form is based on a CAD model. The physical structure of the new stone is constructed layer-by-layer through a digitally controlled combination of granules and binder.
The stones are - apart from their role in the build environment - looked at from their micro-scalar physical and chemical properties. A different molecular configuration is materialized using a 3D printer, which turns a digital CAD model into a physical object, layer by layer. The stabilization of molecules is achieved through a local control over the distribution of granules and binder. Granules are extracted from the following stones: Multicolour red, Silver-grey, Bianco Perlino and Nero Impala. Accordingly, each granule used to compose Alpha, Beta, Gamma, Delta inherits mechanical properties from its original mineral makeup.
These properties determine maximum stress, elasticity and density, among other.

Four granules are used:
Alpha: stone printed with the Multicolour red granules and binder (liquid adhesives).
Beta: stone printed with the Silver-grey granules and binder (liquid adhesives).
Gamma: stone printed with the Bianco Perlino granules and binder (liquid adhesives).
Delta: stone printed with the Nero Impala granules and binder (liquid adhesives).
All prints are modeled on the Lion Human, a sculpture that dates back to 38.000 B.C.

'Alpha, Beta, Gamma, Delta' will be printed to the original size of the 'Lion Human', which stands 31.1cms tall. All material from the original stones will be used for the 3D print. In case of material shortfall, only as much of the Lion Human will be printed as supplies allow, from the feet up.




Conclusion/
Composition:

The micro-scale determines our primary understanding of sculpture. Material properties such as elasticity, hardness, specific weight, standing, stability, floating, etc. are determined by the molecular structure. The micro-scale perspective maintains the objects potential along with its various transformations through time.



Terminology /
Language:
This protocol makes use of terminology from material research.
The knowledge of mineral properties can lead to a re-phrasing of sculptural qualities and underlines the transformative quality of object/artefacts in time.